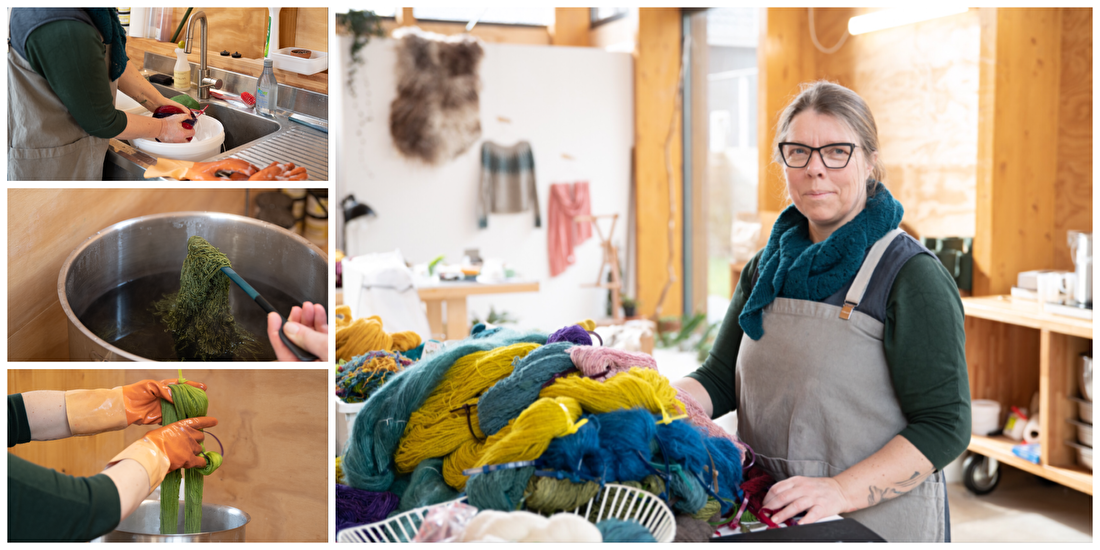 Welcome to Wol Verhalen
Hi! My name is Catharina Zantingh and Wol Verhalen is my Wool & Plant shop with Dye Studio in Tynaarlo.
I am an Indie Dyer (independent dyer) and in my Dye Studio I dye yarns of various compositions, such as various types of sheep wool, alpaca, silk, and mohair. I am very careful in selecting yarn suppliers. All the wool I use is Mulesing-free. I dye the yarns of Wol Verhalen exclusively and on a small scale for my own shop. This allows me to give the process all the care and attention it needs!
Please keep in mind that hand-dyed yarn can always give off some colour when washed. I try to photograph the yarn as true to life as possible, however, depending on your monitor, the colours can look slightly different.
In addition to the hand-dyed yarns from Wol Verhalen, you will also find yarns from CaMaRose, Einrum and BC Garn, to ensure that you can select from a wide product range.
The majority of the products that I have in my shop in Tynaarlo can also be found in the webshop, except for plants and planters, which are only available in the shop.
Please feel free to contact me if you have any questions or if you need advice!
I am more than happy to help you!
Best regards, Catharina
Wol Verhalen opening hours:
Monday: Closed
Tuesday -Thursday: by Appointment
Friday: 12:00 - 17:00
Saturday: 12:00 - 17:00
Sunday: Closed
If you wish to make an appointment:
Select a date here
or
email me at info@wolverhalen.nl
or
You can visit Wol Verhalen at:
Zuidlaarderweg 2
9482TW Tynaarlo
The shop has its own parking lot.
In my shop, you will find:
Wol Verhalen's own hand-dyed yarns

Yarns from BC Garn, CaMaRose and Einrum

Knitting and crocheting accessories

Project bags

Haberdashery

Scissors

Magazines, such as Laine, PomPom, Making Stories

Books

Bags

Planters from BergsPotter and Serax

Indoor plants

Soaps from Kusala Gifts and Veld & Haas

Postcards from Kleine Dingen
Please also check out the FAQ to learn more about me and my work process.